Date: Friday, October 6, 2023
Location: Pensacola Beach Church
Time:  VIP Meet & Greet 5:00 – 5:45PM * 6PM Showtime
Cost: $30 – Includes delicious D.a.T. Sauce Louisiana Gumbo and Bill E's Bacon Pork Belly Bites – BUY TICKETS

A portion of the proceeds benefit R&DA Military Assistance Program & The Captain Joseph House
Pensacola Beach Songwriters Festival presents Concert of Light: A Night With The Veterans at Pensacola Beach Church on Friday, October 6, 2023. Join us for an unforgettable evening honoring our nation's heroes, with performances by:
Ray Scott, Mutt Cooper, Brigitte London, Sean Gasaway, Pearl Clarkin, Shawn Bowling, Danny O'Flaherty, Daryl Wayne Dasher, Brook Faulk,  Colleen Lloy , Matt Williams, Goldie Lahr, Kylie Cole, and The Blue Anchor Belles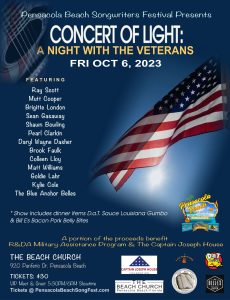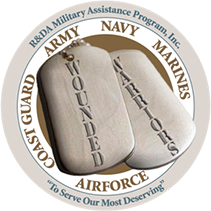 About R&DA Military Assistance Program:
Founded in 2007, the Military Assistance Program (MAP) provides monetary and direct assistance to injured U.S. military service members and their families.
When a family first hears of a loved one being injured, shock soon gives way to anxious anticipation of looming challenges. Practical and urgent necessities demand immediate attention. Obvious needs are continued payment of bills like health insurance, groceries, gasoline, mortgage and utilities. Less obvious needs might include things like stopping daily mail deliveries to hurriedly packing for travel to a bed-ridden loved one hundreds of miles away.
MAP comes to the rescue for our service members and families by providing enormous outpourings of monetary and other life-sustaining support throughout the rehabilitative process and beyond, including transportation, meals, mentoring, employment assistance and much more. Visit their website.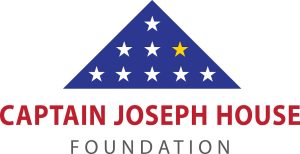 About Captain Joseph House:
Captain Joseph House provides a respite for Gold Star Families on their journey from grieving victim to empowered survivor; from familiar military community to civilian life.
Captain Joseph House was founded by Betsy Schultz in memory of her only child, Captain Joseph Schultz who was killed in action in Afghanistan. Within days of Joseph's death, Betsy recognized that something was missing in the continuum of care for Families of our Fallen Heroes – the opportunity to bond with others experiencing a similar loss. She immediately began channeling her grief into action. She formed the non-profit Captain Joseph House Foundation, donated her large "bed and breakfast" to the organization, and began converting it into a Respite Home for Gold Star Families. The House provides a safe and peaceful environment where new friendships can take root and Families can draw strength from each other. It will allow Family members to connect on a more personal level with others on a similar journey in a home-away-from home setting.
Visit their website.